Trail Rides at the Ranch
Saddle Up and ride with us through the foothills of the Tetons!  There's nothing like the view from the back of a sure-footed mountain horse!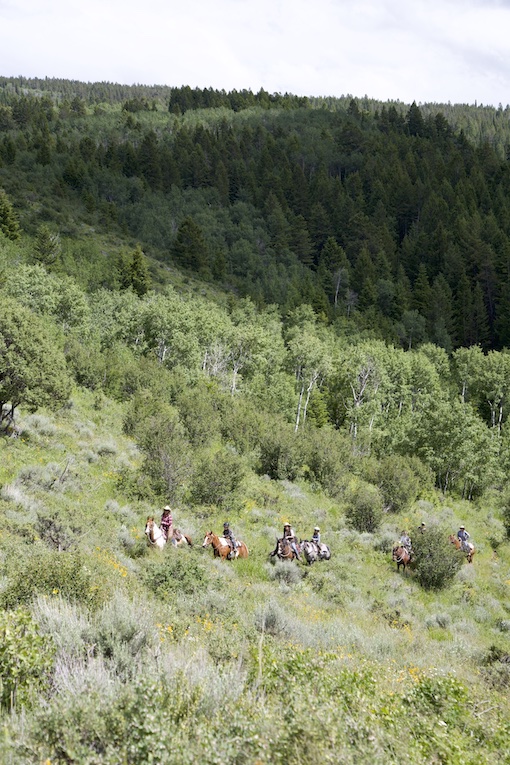 We offer several rides at the ranch from a three hour trail ride with a picnic lunch to an hour long ride followed by an elegant western dining experience.
When you arrive at the ranch you will meet your guides and horses. We choose a horse and saddle based on your height, weight and experience. You will ride through gorgeous Aspen groves with views of the Teton Valley and Big Hole Mountains. Our guides will offer riding instruction and tips for beginning riders. The minimum age for riding is 8 years old and maximum weight is 250lbs.  Younger kids can enjoy lead rides around the corral and visit the gardens. Groups are kept small to ensure your safety and to enhance the quality of your experience.  Please inquire if you'd like to book a private ride.
Our fully-guided trail rides can be custom created to accommodate your needs.  Our specialty is having fun out on the trail while enjoying the beauty of the Tetons!
This ride takes you out our back gate and up into the forest adjacent to the ranch. We'll loop through aspen groves and huckleberry patches on a moderate two hour ride.
Like the two hour ride, we'll ride out our back gate just a little further into the foothills to a secluded picnic spot with a fantastic view. We'll tie up our horses and prop up our feet as we enjoy a custom picnic lunch.
Whether you are staying at Linn Canyon Ranch for a few days, or just want to enjoy an evening of real western fine dining, the Sunset Dinner Ride is not to be missed! 
A pony ride is perfect for the younger ones!  It's a chance to be introduced to riding in a safe and fun way.  One of our guides will lead your child around the ranch.
Here is your child's chance to be a real cowhand! Fun on the ranch is a mini camp offered over three days.  Participants will learn horsemanship basics, including leading, grooming, riding, knots, hitches, and most importantly safety.  
Offered as a 5 hour workshop, this program is customized for the family or individual that is looking to experience private time on the ranch. You pick the focus; whether your goals are learning about horses for the first time or honing your riding skills in the mountains, our well-rounded, experienced staff at Linn Canyon Ranch will design a fun-filled day that specifically caters to your goals.
This is a popular option for those looking to learn more about horsemanship and trail riding.  It's also the perfect option for those 6-8-year-old riders who need to develop the skills and confidence before they attempt the trails.
Still unsure which ride is right for you?
If you'd like more help planning a trail ride or are looking to book a private or custom ride, send us a note and tell us how we can help you plan your ideal trail ride experience.
Trail Rides
From mid-June through September
Weather dependent
Dining
Year-round, by reservation only. 
Lodging
Our luxury tents are available through the summer.
The timber frame cabin is available year-round.
Weddings and Events
Year-round
Drop Us a Line
Don't be shy. Let us know if you have any questions!